HOME > WATERPARK > Introduction
Introduction
Blue Canyon,
a Mediterranean-style Water Park
Blue Canyon, the themed water park with leisure pools, offers a Mediterranean-style quality water park with various lounges and amusement facilities. You can enjoy the thrilling experience of Korea's first 140 m up & hill slide and Korea's longest Extreme River that spans 201 m with maximum width of 5 m. The Grade 1 natural mineral water from 700m underground is as effective as hot spring water and healthy for anyone with sensitive skin, from children to adults.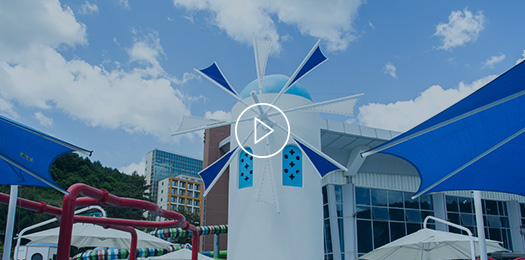 Entry and Exit
Purchase admission tickets (1F Ticket Booth of Main Building).

STEP 02

Entry Gate / Ticket Check

Leave food and valuables.
Leave strollers (individual locks required to prevent theft/loss).
Check the items not allowed inside (bag check).

Enter with your shoes off and use the shoe lockers indicated on your ticket.
Take the locker key from the shoe locker (shoe locker will not be locked again once open).

Go to the changing room and shower room (use the locker with the same number as the shoe locker).

STEP 05

Enter Blue Canyon

Use the locker key to use charged facilities and food/beverage facilities (pay later).
- Children and senior must be accompanied by guardians.

STEP 06

Shower and Changing Room

Boys and girls over 5 years of age cannot enter the same sauna, shower room, or changing room.
Different genders may not be allowed to enter together regardless of age in some cases.

Pay the amount due (if applicable).

Shoe lockers will not open if there is outstanding balance
Leave the locker key in the show locker.
Attractions
Attractions Table
Indoor
Zone
Wave Pool
Frog Pool
Kid's Pool
Bathe Pool
In-Out Lazy
River
Body Slide 1
Body Slide 2
Event Spa
Indoor
Sweating Sheds




Attractions Table
Outdoor(Tower Slide
Zone)
Family Slide
Up & Hill Slide
Speed Slide
Rodeo Mountain
Half Bath
Water Play
Event Spa
Family Spa
Outdoor
Sweating Sheds














Attractions Table
Outdoor(Wave River
Zone)
Wave River
Tarzan Pool
Wellbeing Spa
Outdoor
Kid's Pool